Spring to New Life with Spring Promos and New Natural Skincare from Australia
"SPRING SURPRISES" SPECIAL PROMO:
When you spend $100 nett or more in a single purchase
you can get 10% coupon code off for any of your future purchases for the rest of the year and till end NEXT year 2020 too!
You don't have to wait for the next promo. 🙂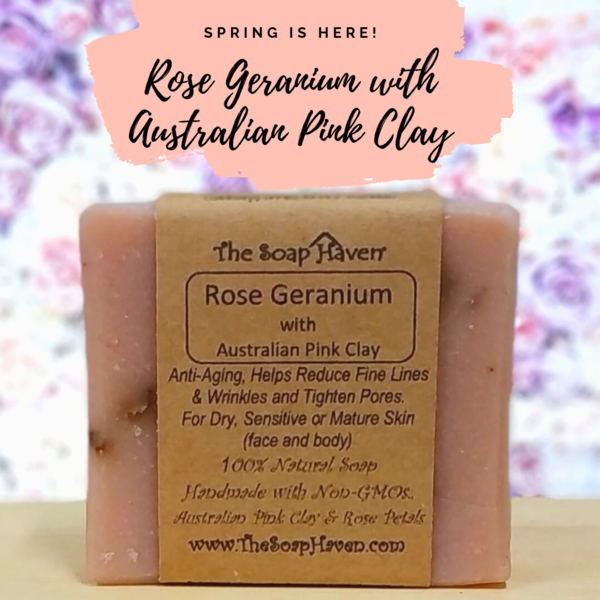 Spring to New Life with this amazing Anti-aging, Super-hydrating
Rose Geranium with Australian Pink Clay
Facial and Body soap bar!
U.P $17.90
New Launch Promo Price for a limited period only at $14.90!
Only at www.thesoaphaven.com.
Hurry, whilst stocks last!
Spring to new life with one of the most sought-after ingredients in the skincare world – Rose Geranium essential oils, rose petals and Australian Pink Clay all in one soap bar! Get a detox and achieve clear, bright skin with this amazingly hydrating bar!
PERFECT FACIAL & BODY BAR for all skin types
Works extremely well on DRY, MATURE SKIN, especially helpful for skin that is prone to break outs.
A wonderful rejuvenating ANTI-AGING SOAP for the face and body!
A luxurious beauty bar with the amazing Rose and Australian Pink Clay ingredients to achieve blemish-free skin, and keep dry skin moisturized.
Detoxifying and yet especially gentle, hydrating and moisturizing for face.
ROSE GERANIUM essential oil – High in anti-oxidant, it is the anti-aging oil for tightening and brightening skin, helps reduce inflamed skin or acne. Naturally anti-microbial and anti-fungal against skin infections.
AUSTRALIAN PINK CLAY – draws out dirt and bacteria from pores to detox your skin and to help combat acne, and acne-prone skin to provide skin balance, even skin tone and help reduce hyper-pigmentation.
ROSE PETALS -BOOSTS COLLAGEN PRODUCTION. Luxuriously rich in vitamin C and other anti-oxidants. Vitamin C boosts collagen production, helping to firm up skin by strengthening skin cells and tissue. This helps blemishes and acne scars to heal faster and also lighten sun spots. Rose petals contain natural oils and sugars that will help lock moisture into dry skin cells.
NEW LAUNCH PROMO PRICE at $14.90 for a limited period only!
Natural Ingredients : Saponified Oils of GMO-free Sustainable Palm oil, Non-GMO Coconut oil, Olive oil, Rose Geranium Essential Oil, Australian Pink Clay and Rose Petals.
Learn More about Rose Geranium Aus Pink Clay Soap Bar >
Get this amazing bar at Special Promo Price! >
MORE SPRING SURPRISES FROM DOWN UNDER AUSTRALIA!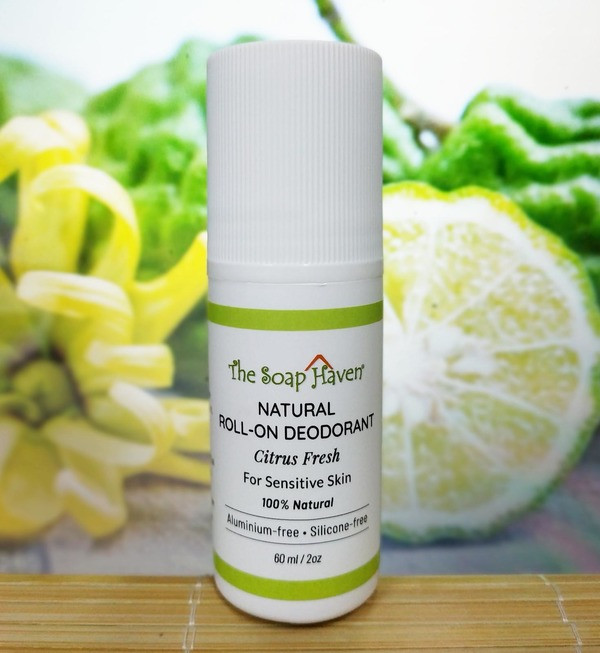 The Soap Haven
100% Natural Roll-On Deodorant
Citrus Fresh scent (U.P S$18.90)
NEW LAUNCH PROMO PRICE $15.90 for a limited period only!
handmade with Aussie Natural Ingredients only!
Aluminium & Silicone-free.
Stay fresh-smelling the whole day with our 100% natural deodorant – "Citrus Fresh" Scent, which is aluminium and silicone-free! A beautiful blend of essential oils and natural ingredients to bring forth freshness and keeping you smelling naturally great.
Perfect unisex scent that will suit all ages and genders. No added worries of nasties, like synthetic aluminium and silicone compounds harming your health too!
NATURALLY ANTI-BACTERIAL – Natural ingredients like witch hazel, patchouli and cypress essential oil contain natural anti-bacterial properties that will keep you smelling fresh for the whole day!

CYPRESS ESSENTIAL OIL – has antiseptic properties that helps heal cuts and wounds from aftershave. With an astringent property, it also tightens skin on the underarms to prevent the sag!

SPECIALLY FORMULATED FOR SENSITIVE SKIN and underarms.

With soothing Aloe Vera to soothe sensitive underarms, itch and acts as an aftershave balm.

BERGAMOT and LIME ESSENTIAL OILS – high in anti-oxidants, help to reduce darkening of pigmentation on your underarms too!

PERFECTLY UNISEX NATURAL SCENT suitable for all ages, achieved from the amazing balance of masculine and feminine notes of the blend of essential oils.

In a roll-on 60 ml bottle, perfect travel-sized.
Natural Ingredients: witch hazel, ethanol, aloe vera, sodium bi-carbonate, vegetable glycerin (Non-GMO soyabean/ rapeseed oils-derived), xanthan gum(natural thickener), and essential oils of patchouli, cypress, bergamot and lime.
Plus get a 10% coupon code when you spend $100 nett online that will last you till the end of NEXT year! Yes NEXT Year 2020!