The Soap Haven National Day Sale! 12% OFF! & FREE Natural Roll-On Deodorant!
Celebrate Singapore's 54th birthday!
Use TSH12NDP19 coupon code
and get 12% OFF
this CRAZY 5 DAY SALE
from 8-12th Aug 2019 only
for your online orders
at www.thesoaphaven.com.
Hurry, whilst stocks last!
FREE SMARTPAC 2-3 working days SHIPPING too!
T&Cs apply.
T&Cs:
1. Applies to all except bundles and promo section.
2. Valid for online sales only at TheSoapHaven.com.
3. Valid for min. purchase of $54 nett
4. Coupon code expires 12 Aug 2019 2359 hours.
4. Not valid for use in conjunction with other coupon codes.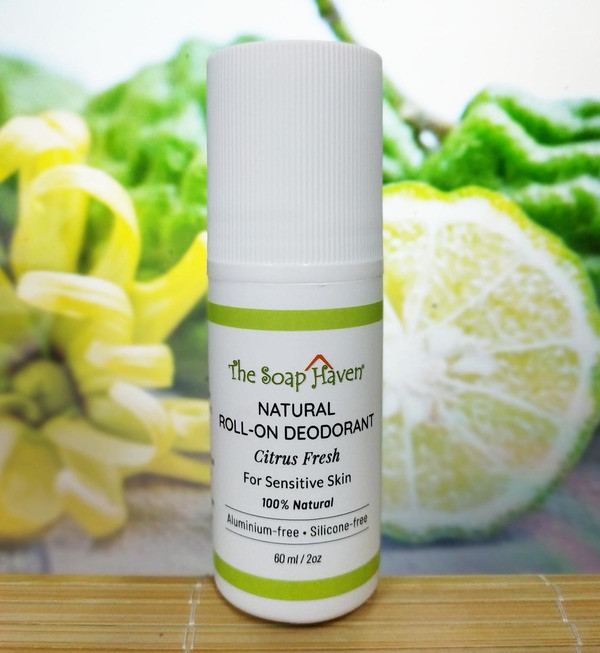 THERE'S MORE!
SPEND $100 nett or more 
now till end August 
and get a FREE 
The Soap Haven New Ltd. Edition 
Natural Roll-On Deodorant
Citrus Fresh scent (worth S$16.90) 
handmade with Aussie Natural Ingredients only!
Aluminium & Silicone-free.
Natural Ingredients: witch hazel, ethanol, aloe vera, sodium bi-carbonate, vegetable glycerin (Non-GMO soyabean/ rapeseed oils-derived), xanthan gum(natural thickener), and essential oils of patchouli, cypress, bergamot and lime.
Whilst Stocks Last!
Plus spend $100 or more and get a 10% coupon code that will last you till the end of the year!
Our Eczema Healing Kit contains products that are not just made of 100% natural ingredients, but they are unscented and do not contain any essential oils.
Therefore they are suitable for pregnant, lactating moms, babies and toddlers too!
This All-in-One Eczema Healing Kit of
5 items costs $74.50 for all the individual items put together. 
Now $59.90 only! 
Save $14.60 at almost 20% discount!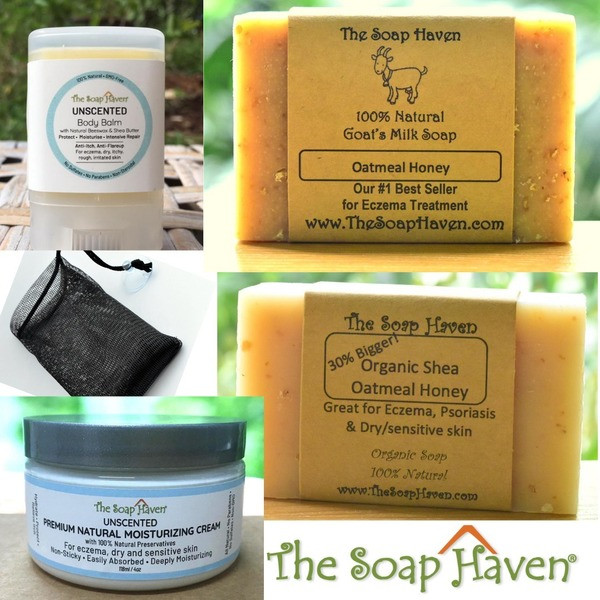 The Soap Haven Premium Natural Moisturising Cream is IN our Eczema Healing Kit! 
J Png – July 12, 2019
As a long time sufferer of eczema, the Premium Natural Daily Moisturising Cream is a fantabulous treat for my very dry, itchy, sensitive skin. It does not clog the skin or make you feel covered with a thick layer of ointment. Importantly ingredients are natural ones and unprocessed. This is a marked contrast with most of the available products. Coupled with the Soaps (Honey Oat or Himalayan salt), my flareups are now better managed, steroid free. Highly recommended.Charles:
My palm is itchy, red and scaly due to eczema. It requires constant moisturising. I tried many brands of moisturiser. The conditions keep recurring. While browsing the internet, I came across the unscented hand moisturising cream from The Soap Haven. After applying for a week, the itchiness, redness & scaly skin reduced significantly. My palm looks radiant. I recommend to anyone to give it a try.
This All-in-One Eczema Healing Kit costs $74.50 for all the individual items put together. 
Now $59.90 only! 
Save $14.60 at almost 20% discount!
Did you know?
When you spend $100 nett or more in a single purchase you can get 10% coupon code off for any of your future purchases for the rest of the year! You don't have to wait for the next promo. 🙂